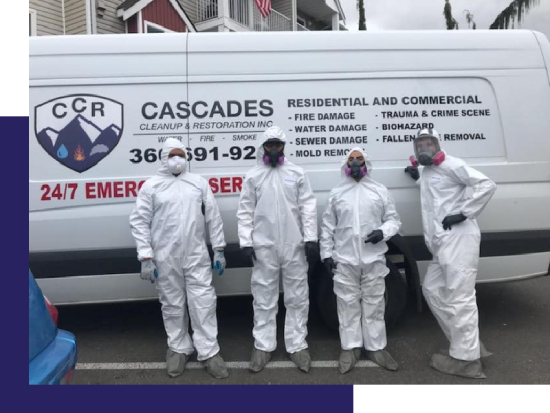 Expert Restoration and
Mitigation Services for Your Home
Maintaining your home is only one call away. Ask the help of professionals to make sure that future damages are prevents and avoiding expensive repairs.
Mold is sneaky, dangerous, and potentially deadly to anyone who inhales its toxins. If you notice mold growing in your home, even if it's only a patch, call us to set up mold removal services immediately.
Water damage can not only cause stains and mold, but it can also affect your entire building's structure. Our water damage repair team is always ready to offer help to those suffering from any leaks, spills, or storm damage.
Fire and Smoke Restoration
After a fire hits, the damage left behind can be devastating. Homeowners like you need a professional team standing by your side to aid in the recovery process. Call us if you need any debris removal or deep cleaning services after a fire.
Fixing damages caused by backed up sewer can be difficult and expensive. Our team offers professional extraction of sewer lined before a plumber performs, and post-clean. It helps prevent future blockage of wastewater flow and the aging of your sewer lines.
 Our team is equipped to remove any tree large or small. Many times trees are planted without regard of their mature tree size, or have died due to disease, nature, or other problems. We our here to handle anything that arises.
In the case of any potentially harmful substances such as bodily fluids or chemicals, our team of experts are skilled at safely and efficiently cleaning up any areas affected.
When we remove the contents from inside your home or business it is called the pack out process. We will make sure that your items are moved to a safely secured space to ensure that they are not damaged any further